It's 2019 and we hear this question almost every day. "What is an SSL certificate and why do I need one?" We'll tell you why!
What is an SSL certificate?
To get technical, Secure Sockets Layer (SSL) is a cryptography technique that uses a symmetric key which helps create a secure connection between the client and the server. Basically, using SSL is essential as it offers many benefits to both consumers and businesses.
Ever visit a website and see the nice green lock in the address bar? (We have one too) Thats an SSL certificate at work. Browsers will let you know if the site you're on is secure by displaying that green lock. Some browsers will even show the words secure and allow you to display the actual certificate. Lately google has even been penalizing websites that do not have an SSL certificate by displaying a warning page before you visit.
What are the benefits?
Encrypts sensitive information
The main purpose of an SSL certificate is to keep all the sensitive information sent across the internet encrypted so that it can only be read and understood by the intended recipients. The information usually passes through more than one computer before it reaches its projected destination. This in turn increases the chances of a third party obtaining access to such information. Therefore, SSL works by simply inserting some random characters into the original information, making it incomprehensible to third parties. Just in case the information accidentally winds up in the wrong hands of a person without the proper encryption key, it will be unreadable and therefore useless.
Provides authentication
A proper SSL certificate not only provides encryption, but also authentication. This means that the information on your website including that of customers goes to the correct server without being intercepted to a criminal's server. There is also another type of protection well known as a server certificate which is issued when obtaining an SSL certificate. The certificate basically acts as a mediator between SSL servers and browsers. Users can easily view these documents to confirm that the certificate of your site is kept up to date and this helps them to be sure that the website page they're about to enter their information on is yours and not a replication.
Protects against phishing
A criminal might try to impersonate your website by sending a phishing email. The email sent in most cases uses a middle-man attack to use your own domain name or uses a certain link that lands your customers to their own website. But with an SSL certificate, these criminals won't be able to impersonate your website easily because it is very difficult for them to receive a proper SSL certificate. This is no doubt a better way of ensuring that your customers don't fall for a phishing attack since they'll be most interested to look for the trust indicators in their browser, such as a lock icon or a green address bar.
Offers an added brand power
Companies that issue SSL certificates usually offer extra site trust seals as well as other images that clearly signify well-trusted encryption is in use. These branded icons assure the customers that their information is safe when they send it. What does this mean? Well, people feel more comfortable on your website and trust you and your business more which means they'll be more likely to spend money on your goods or services.
Essential for accepting payments
Each business that sells its products online needs an SSL certificate with the proper encryption of at least 128-bit so as to comply with Payment Card Industry (PCI). Payment Card Industry standards basically verify and ensure that the SSL certificate is from a trusted source and uses proper strength of encryption. Additionally, PCI ensures that the certificate also provides a private connection on any page that requires users to enter personal information. You need to pass these fundamental audits. Basically, your site won't be able to take credit card payments without a certificate that meets these standards.
Building customer trust
Customers have become very careful and will only order products or services from a site that offers some degree of protection. Web browsers give visual cues to make sure customers know when their connection is secured. They will trust your website more when they see certain cues. When you provide customers with security for all of their information by giving them ways to verify, it greatly improves confidence and will be more likely to buy from you.
The answer again, is yes. Get an SSL certificate.
An SSL certificate ensures transparency and requires little interaction from end users. The encryption is an easy experience for the administrators and users. Besides that, many states have made it a rule that ecommerce websites should have customer information accessed to and requested for only through secured encryption. SSL is a handy solution when it concerns the security of an ecommerce store as it instills in the confidence. While it doesn't require an in-depth technical knowhow it can at the same time be accessed by all types of websites looking to make use of the internet in a more profitable way.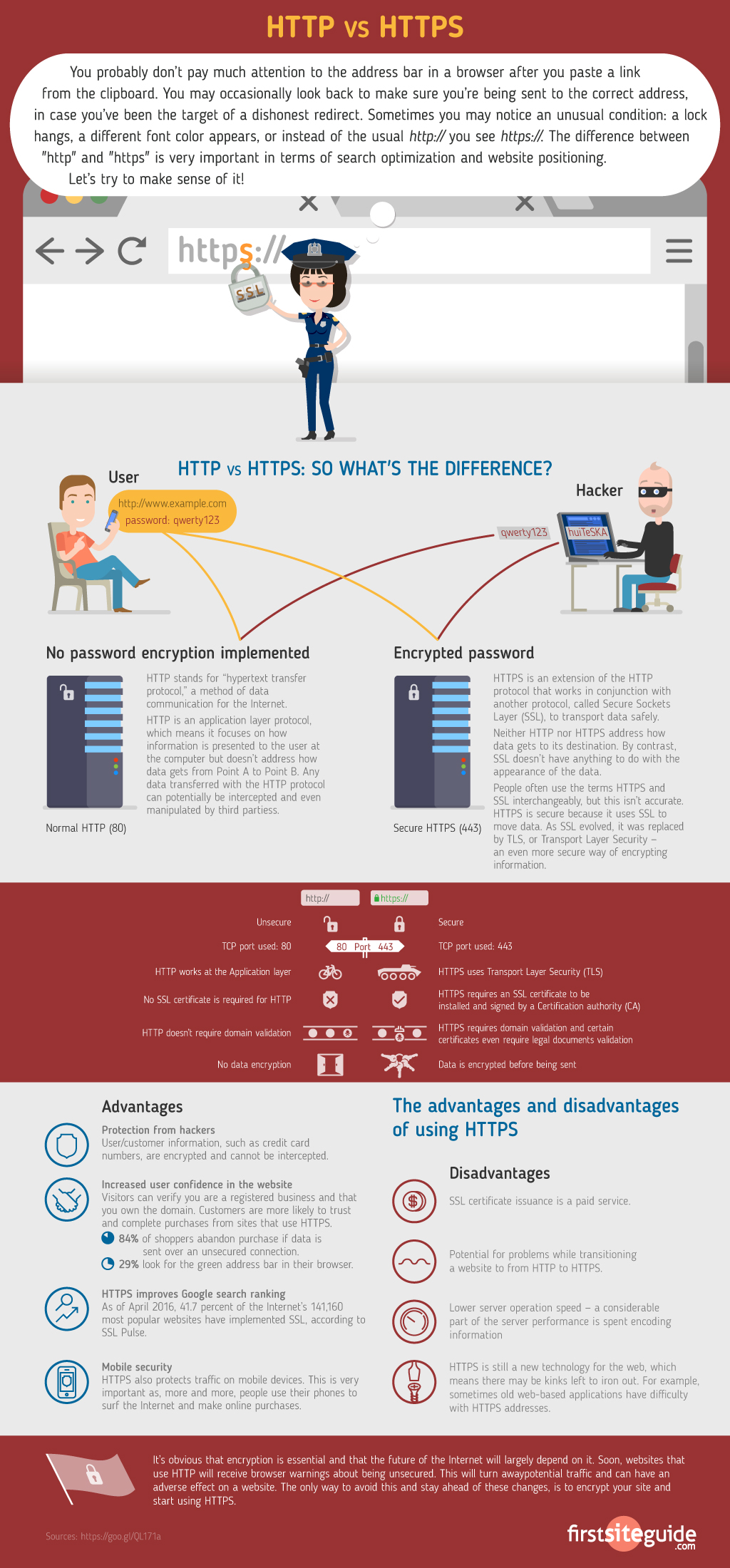 HTTP vs. HTTPS – Cheat Sheet was created by Firstsiteguide.com